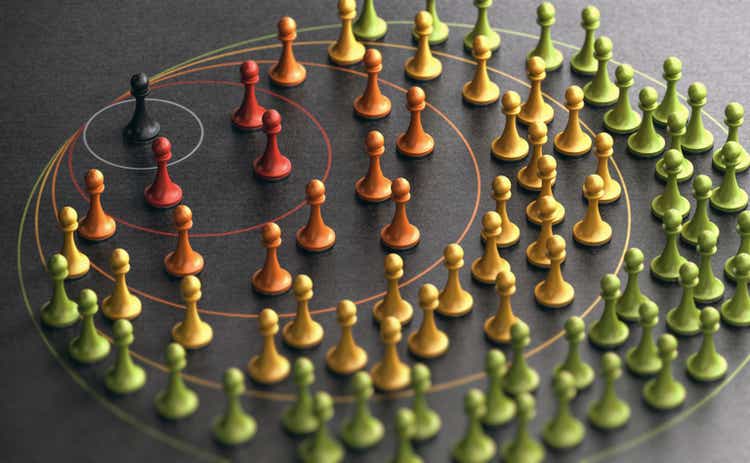 Both are successful stories, both international and huge companies. However, only one is my favorite. It is MercadoLibre (NASDAQ:MELI). While MercadoLibre's IPO was in 2007, eBay (NASDAQ:EBAY) achieved this step in 1998. Both these companies achieved milestones. However, for future potential, I choose MercadoLibre.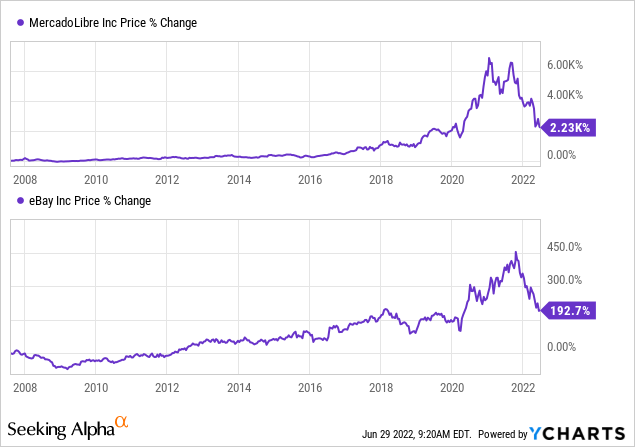 From 2007, the stock price of MercadoLibre achieved a very successful story, while eBay is much more conservative here. One would say that operating an e-commerce business in Latin America due to such challenging conditions as unstable political situations, high inflation pressures, long term devaluation of domestic currencies, and other discouraging factors would not guarantee a successful story. However, the company knows the conditions and rules and learned to swim through the obstacles. On the other hand, eBay was among the first in developed countries to bring e-commerce to the people. The early beginning of the companies' business models was similar. However, Mercado is a mile away from eBay as its fintech is brilliant, and its revenue streams do not rely on e-commerce only.
The Common Macro Outlook, The Different Story
From September 2021 (near-peak), MercadoLibre is down -66%, while eBay is down "only" -45%. These companies mainly operate in e-commerce, so their sales are driven by consumer spending.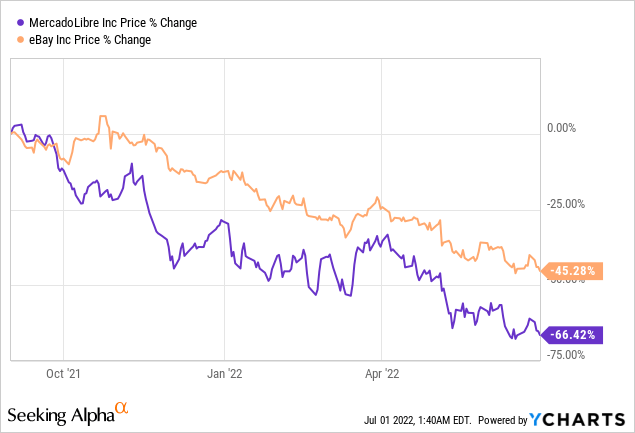 Consumer sentiment or consumer confidence indexes reflect ordinary people's behavior and spending habits in a given market cycle. Both have slightly different structures but have a similar outcome. These indicators can be used as leading indicators for further upward or downward revisions. For example, eBay and many other e-commerce players have reduced their full-year guidance downwards due to a significant decrease in consumer sentiment. The main contributor is surging inflation (which significantly worsens consumer spending and leads to lower demand, thus, lower GMV and fees for a successful trade).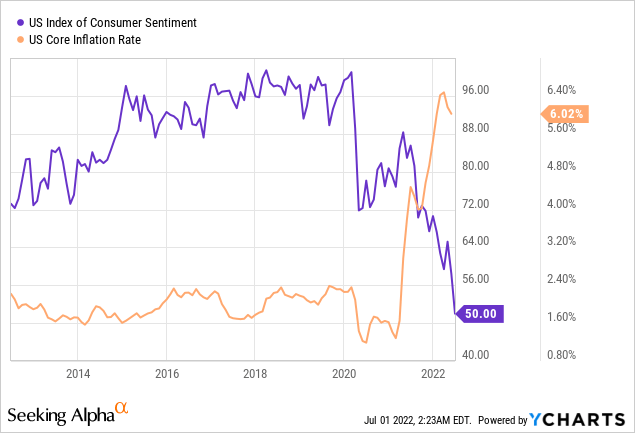 Moreover, MercadoLibre's business is more impacted by FX rates, as a stronger dollar generally weakens currencies like the Brazil real and other currencies in Latin America. However, during Q1'2021, domestic currencies in Latin American countries appreciated as they are mainly commodity exporters. The commodity surge helped their economies. However, it is a different story from late May, and weakening domestic currencies will negatively impact FX-neutral sales (downwards). Yes, MercadoLibre will feel this impact. However, a slight impact will harm eBay, too, as it operates in international markets.
Although inflation is driven mainly by supply-side factors, it is not the only factor that impacts consumer behavior. The war in Ukraine does as well. As Consumer Sentiment currently reached a multiyear low, we are near the bottom as I think the inflation peak is close (in the USA). That should be the bullish narrative for MercadoLibre and eBay. However, in the long term, I'm firmly convinced that micro-fundamental drivers are in favor of MercadoLibre.
Revenues Growth Is Enormous – MercadoLibre
Due to the robust scalability of MercadoLibre's business, the expansion is very successful and well-diversified as a percentage of Brazil's revenues (on total revenues) is slightly decreasing during the last three years. MercadoLibre's geographical distribution of net revenues is as follows:


Great Market Potential
One of the critical principles as to why I bet on this strategy, is an excellent advantage for the future growth and potential of MercadoLibre. As the company operates in Latin America, its core business and scalability are great as the company expands to additional countries. However, essential services such as MercadoLibre Marketplace and MercadoPago (fintech) are still not fully established in its dominant and less dominant markets. There is still room for growth. Additionally, there are many countries where the company still does not operate.

MercadoPago (fintech) still has not expanded in markets such as Venezuela, Ecuador, Costa Rica, Dominican Republic, Panama, Bolivia, Guatemala, Paraguay, Nicaragua, Honduras, and El Salvator. All markets where MercadoLibre operates are attractive, and its fintech can have a crucial role in its payments, investing, buying crypto, and other services. These countries suffer from huge inflation numbers in the long term and currency devaluations. However, MercadoPago customers in Brazil can already buy stablecoins. Of course, there are many different and more valuable channels for monetization. But the whole fintech is a complete financial environment, which includes:
Digital Payment for e-commerce,
P2P payments,
investments,
loans,
and others.
The potential of the fintech branch of MercadoLibre is enormous as the banking system in these countries is not fully developed as well as e-commerce.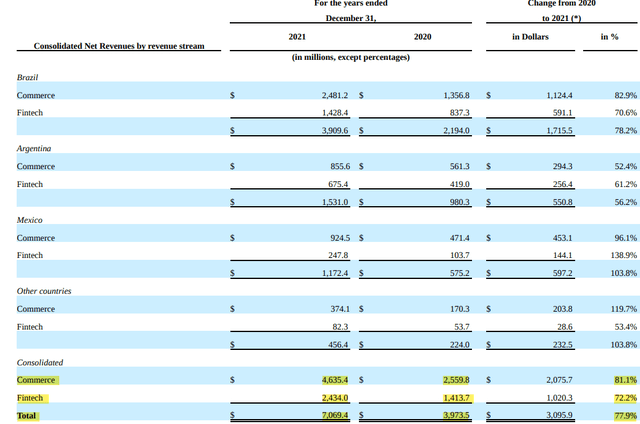 The company achieved incredible growth in the commerce and fintech categories, a total of 78% YoY (2021).
Additionally, the compared booked the highest net revenues historically on a quarterly basis (Q1'2022):
We achieved record net revenues in the quarter, with $2.2 billion dollars, at a growth rate of 63% on a USD basis and of over 67% on an FX-neutral basis. Along with the sustained transaction growth in gross merchandise volume and total payment volume in the first quarter driving higher revenues, both our commerce and fintech businesses have improved monetization levels year-over-year. The additional services we provide throughout the ecosystem, like advertising, shipping and credit, are boosting revenue growth beyond the fees charged for sales transactions, and these services are key to deepening our relationship with merchants and users on our platform. In Q1, advertising revenues were nearly 1.1% of our GMV, shipping net revenues almost tripled year-over-year, and revenues from our credit business surpassed the $400 million dollar mark.
Moreover, in Q1'2022, gross profit reached a record $1.1bn with an improvement in gross profit margin, reaching 47.7%. Fintech's share of total revenues is growing quickly and probably will outperform e-commerce segments.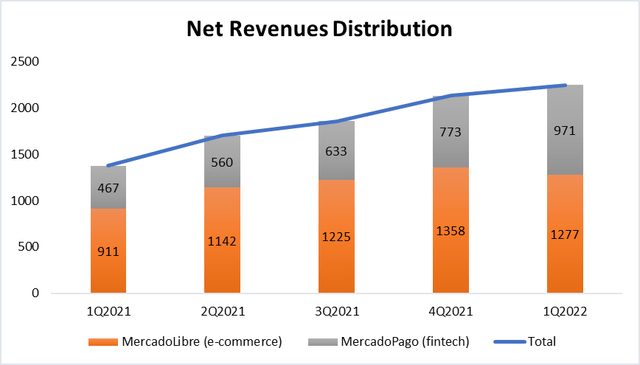 What is stunning for such a great company are sustainably rising revenue revisions upwards, despite the mid-term change in consumer sentiment and LATAM's political, social, and currency risks. Earnings are much harder to predict in such a landscape because there are many unknown variables. But, since December 2021, the EPS for 2022, 2023, and 2024 have decreased slightly (according to analysts).

In the following table below, you can see estimates of revenues for 2022, 2023, and 2024 and the revision trend. These results are important as market participants do not expect a further decline despite current risks. However, it reflects that stock prices do not follow the fundamentals and revision trend, but are impacted by the macro-environment and face valuation reclassification as liquidity is squeezed out of the markets. The sector correlation is increasing among the stocks.

Revenue Growth Is Limited – eBay
The growth phase we saw in MercadoLibre does not apply to eBay. Moreover, Mercado is not a startup anymore. However, the difference between managers' approaches is that eBay operates with significantly higher margins but does not invest additionally in its business except the eBay Vault. eBay invested mainly in buyback programs and dividends, which we can appreciate on the one hand, but on the other hand, it's not investing in the business model appropriately. Moreover, the company invested in a few companies too. I believe eBay suffered due to a bad agreement with PayPal (PYPL), but it was able to develop its digital payment system during that period.
Nevertheless, it does not matter how efficient this system is, as it mainly serves for transaction purposes. So eBay's primary revenue stream comes from various fees via marketplace (transactions) and advertising/marketing services.


The Market Potential
The newest channel in the growth stage is eBay Vault, a secure storage facility and digital marketplace for trading cards and collectibles, with a further focus on luxury goods. The first channel is well-known and essential for a robust e-commerce player. However, the new eBay Vault will be an additional revenue source.
Further development of digital payment methods can lead to margin improvements and additional revenue. However, this step can maintain eBay's long term competitiveness if it is successful. Payment methods via PayPal were not the best solution for sellers. The PayPal payment methods were reducing the sellers' margins. Any new payment system has the potential for "system change," thus retaining its users and remaining competitive.
The problem with short-term and medium-term risks for eBay is the subsequent decrease in consumer confidence in the USA, UK, and Europe. Unlike MercadoLibre, eBay does not own a "fintech" which is a partially independent source of revenue. eBay cut its full-year guidance for revenues in 2022 to $9.6 – $9.9 bn, down 8 – 5 % from 2021 results. GMV should decrease significantly.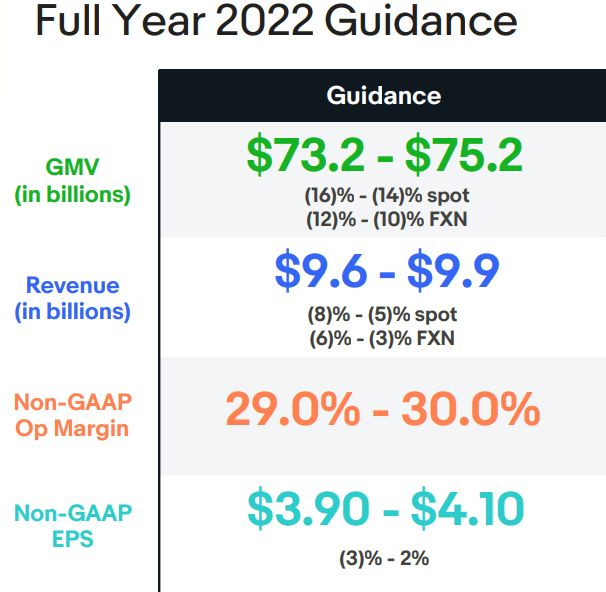 However, it can be much worse if bad sentiment remains at current levels for some time. As the company's growth stage is probably over, the stock will be impacted by consumer confidence in the medium term. However, if consumer confidence improves or inflation pressures ease slightly in the short to medium term, the stock and revenues may recover. Nevertheless, eBay Vault can bring some potential to its long term business. However, in absolutely high competition (Walmart (WMT), Amazon (AMZN), Alibaba (BABA), etc.) in the developed world, growth will probably struggle. Seeking Alpha's Consensus Revenue Revision Trend confirms the medium-term growth limit thesis. The company faced 22 revenue revisions (downwards) – a completely different story from MercadoLibre.

Profitability Comparison And Overall Quant Rating
First of all, let's start with overall quant grades. I will try to argue each part. We will look into valuation deeper, but according to the quant grades, I agree. eBay, with current prices, can be significantly cheaper than its history based on trading multiples. I will try to look at the levered DCF valuation. In the growth section, MELI got the highest possible rating of A+. At the same time, eBay only D. From this point of view, do not wonder if eBay is "more fairly" valued because its growth is limited, according to market participants. It is natural and logical that MercadoLibre trades with some premium relative to growth potential. Thus, MercadoLibre is valued worse than eBay or maybe other competitors, but it only applies in the case of trading multiples (P/S, P/B, EV/Sales, EV/EBITDA) and not DCF valuation.
Momentum is relatively better for eBay. This is impacted by the nature of MercadoLibre and its sector: e-commerce and fintech with solid growth. These companies tend to have a higher beta. The second reason for eBay's better momentum is its long term strong buyback programs, which can reduce price shocks. As massive amounts are outstanding (approximately $4.0bn) for eBay for buyback purposes, I can imagine part of these funds could be invested instead.
We have already discussed EPS revisions. It's a surprise that in such hard times, analysts made many upwards revisions for MercadoLibre's business (in the case of revenue). The opposite can be monitored for eBay and many other e-commerce players, who suffer due to consumer confidence shocks (inflation pressures, interest rate hikes, and war in Ukraine).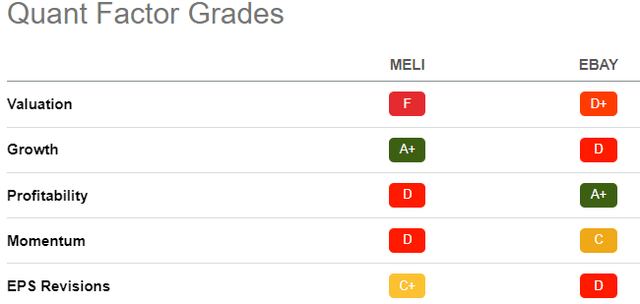 In the case of profitability, there is no doubt that eBay is an excellent company and achieves better figures for shareholders. All profitability metrics are great and better than the sector average or median. There is no doubt that eBay is an established company generating massive free cash flows. However, it is also impacted by high long term EBITDA margins and net income margins.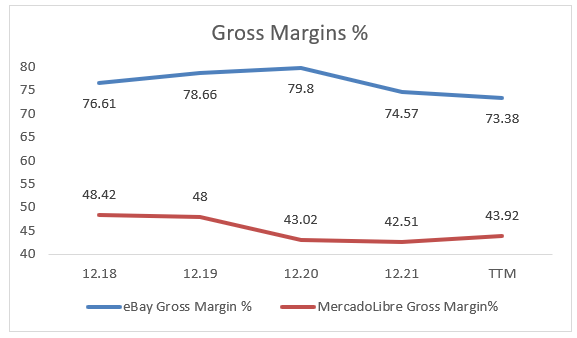 From my point of view, the current trend in margins is very important. According to analysts' revisions, eBay's revenue is not expected to be much higher in the following years. It will also be reflected in the margins. As we said, there is a potential for eBay to improve margins (Vault + digital payment solutions). However, if the company faces stagnation in terms of revenue growth, then may be forced to cut margins slightly to remain competitive relative to other big giants. Although the gross margin is very high, the trend is not favorable.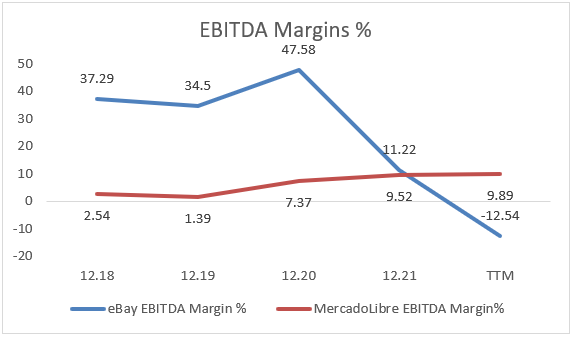 The same is applicable for EBITDA Margins, where eBay found the peak in 2020. However, 2021 and 2022 will be different stories. The trend is negative here as margins are declining. MercadoLibre has weak margins, both gross and EBITDA margins. However, there seems to be a turning point for gross margin figures, which found a mid-term bottom at 42.51% in 2021. I appreciate a long term positive trend for EBITDA margin, which is sustainably growing. The company is in the growth stage and does not focus primarily on margin improvement. With significant growth in revenue terms, the company will deliver much higher margins. I believe that when revenues are more established (after an intense growth phase), the company will have the biggest market share, and there will be significant potential for a margin increase. It could be till the 2-5 years looking forward. Until then, I believe the EBITDA margin will continue to grow slightly and sustainably.
We have partially outlined forward-looking figures (analyst expectations). Now, look at the past. While eBay 3-year revenue CAGR stands at -1%, MercadoLibre achieved a substantial 70.8% CAGR. This growth should continue. However, it can slow down as the company generates significant revenues in absolute terms. We also can probaexpect massive EBITDA growth, and I believe the company will deliver higher EBITDA Margins.

Competition
According to MercadoLibre (10-K):
Barriers-to-entry for large, well-established internet companies are relatively low, and current and new competitors can launch new sites at a relatively low cost using commercially available software. While we are currently a market leader in a number of the markets in which we operate, we currently or potentially could compete with marketplace operators, businesses that offer business-to-consumer online e-commerce services or others with a focus on specific vertical categories, as well as a growing number of brick and mortar retailers that have launched online offerings. Over the past few years, we have seen competition intensify not only as local players grow their e-commerce businesses, but also from international players, which are mainly present in Brazil and Mexico.
One of the most remarkable narratives for this investment strategy is competition. We said previously that all environments in Latin America are so challenging. In each country, there are several common issues. But mostly, there is a bad political environment and high inflation, which have a massive impact on the devaluation of domestic currencies. And, of course, the difficult terrain for delivering its e-commerce products. MercadoLibre knows the rules, the background, and the risks very precisely. That´s why the company is transforming into a monopoly in Latin America, with a still-growing market share. There will always be some minor or maybe international competitors, but I believe that nobody from the developed countries wants to challenge them in such a manner for the reasons mentioned above. The competition is also growing in Latin America, but MercadoLibre does not rely only on e-commerce channels but significantly invests in other revenue streams
However, it is a different story in the USA, the UK, and Europe. eBay (source: 10K) is aware of increasing competition:
Substantial and increasingly intense competition worldwide in ecommerce may harm our business. We compete in two-sided markets, and must attract both buyers and sellers to use our platforms. Consumers who purchase or sell goods and services through us have more and more alternatives, and merchants have more channels to reach consumers. We expect competition to continue to intensify. The barriers to entry into these channels can be low, and businesses can easily launch online sites or mobile platforms and applications at nominal cost by using commercially available software or partnering with any of a number of successful ecommerce, search, advertising or social companies.

In addition, certain platform businesses, such as Alibaba, Amazon, Apple (AAPL), Facebook (META) and Google (GOOGL) (GOOG), many of whom are larger than us or have greater capitalization, have a dominant and secure position in other industries or certain significant markets, and offer other goods and services to consumers and merchants that we do not offer.
There is plenty of growing competition both for sellers and buyers: Zalando (OTC:ZLDSF), Shopify (SHOP), Oodle.com, Etsy (ETSY), etc. However, for these companies, it is much easier to compete in developed markets than in emerging markets. On the contrary, there could be efforts to enter Latin American markets in the future, mainly from companies already operating in these emerging markets, such as Alibaba, JD (JD), and others.
Balance Sheet Comparison
The next step is to compare the balance sheet ratios between companies to reveal potential risks and to evaluate the financial health. Fees from transactions and other fees are still the primary sources of income for both companies. Thus, these companies mainly do not sell their own products, so we should not take into consideration inventory indicators. However, from this point of view, we see the importance of liquidity ratios, such as the quick ratio. The quick ratio for Q1'2022 is similar for both companies, reflecting a solid and liquid situation.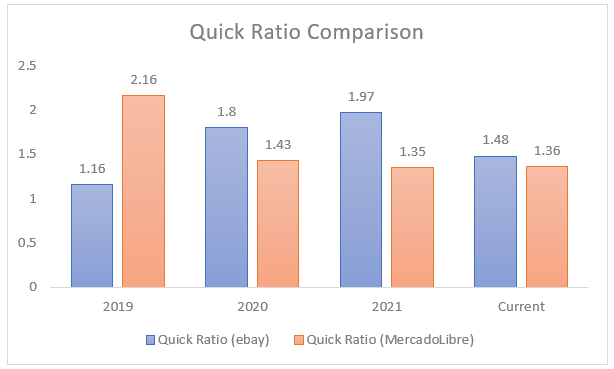 The next essential ratios would be solvency ratios like debt to assets, debt to equity, and long term debt to total assets. Here I saw surprising results. While both companies are doing very well in terms of debt to assets ratio and long term debt to total assets ratio, I see a substantial advantage for eBay based on the debt to equity ratio. The company is in a phase of deleveraging, which is positive (except for the current Q1'2021). The opposite situation is faced on MercadoLibre's balance sheet, where we can see the increasing process of leverage. It means that the company was aggressive in financing its growth with debt. Debt to equity at 3.19 represents a dangerous area, and the company could have problems with interest payments if the growth stops. However, other solvency ratios are good enough with an excellent quick ratio. From a mid-term perspective, there should be no issues caused by debt as revenues are increasing significantly, and the cash position is strong.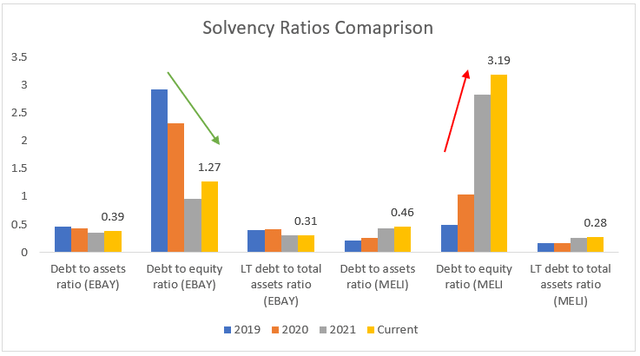 Valuation
Let's start with eBay. We simulated the DCF Levered model, using revenue estimates based on the Seeking Alpha Earnings section. For 2022, we used the bottom line of the company's updated full-year guidance. Till 2026, we used very slight growth figures in terms of revenue. We also counted operating cash flow as a percentage of revenue to be 25.5% in 2022 (in 2021 it was the same) with a very slight decrease in the following years, each year continuing a decline of 0.5% (till 2026). WACC varies from 9% in 2022 (higher risks) to 6.5% in 2026. We used 6.5% for the calculation of the present value of the terminal value.
It's mainly due to the increased market risk premium, which we outlined subjectively on specific risk factors (industry barriers, competition, lack of revenue stream, war in Ukraine, destruction of consumer sentiment, FX risks, and others). The intrinsic value (equity value per share) stands at $39.83, implying that the company is still slightly overvalued. However, a key point here is that we counted the decrease in WACC due to the expectation of improvement in the geopolitical situation, inflation pressures, and consumer confidence in the next few years.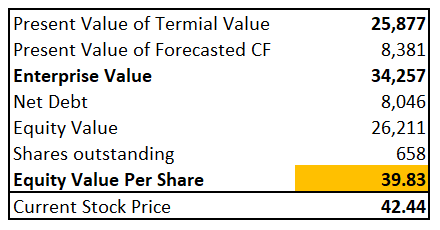 In the case of MercadoLibre valuation, we used the same principle – the Levered DCF model. We used the revenue forecast available in the Seeking Alpha Earnings section as our revenue assumptions. We assumed operating cash flow as a percentage of total revenue with an increase (15% in 2022 to 22% in 2027) during the period as the company could deliver higher margins in the future (OCF margin in 2021 at 13.7%). However, it's hard for the company to successfully deliver strong revenue growth year by year, so we used a much more conservative WACC.
In calculating the present value of forecasted CF, we used various WACC for each year (from 13.5% to 9.0 %). There are many specific risk factors, so we used conservative WACC (emerging markets, and thus political and background risks, high long term inflation pressures, currency devaluation, and other risks). However, I firmly believe that if the company delivers such strong figures in 2023 and 2024, WACC could be slightly pulled down, and that is exactly what we did. For calculating the present value of the terminal value, we used WACC at 10% (eBay 6.5%).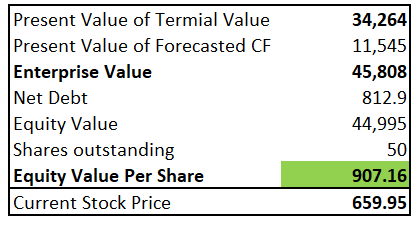 In summary, with such conservative assumptions, the intrinsic value (equity value per share) stands at $907, which implies a 37% undervaluation or margin of safety. eBay is slightly overvalued.
Investment Strategy
In the short term, if consumer sentiment calms down and turns positive, it will be a great sign for both stocks. Both stocks could await a bullish rally. I would not bet on eBay to deviate from sector development in the short term. However, in the long run, the strategy creates a solid opportunity. I prefer the strategy to be 1x Long in MELI vs. 10x short eBay. I consider Mercado stock at current prices a significant opportunity as the company has great potential with a great margin of safety. Maybe you are asking why you don't short more eBay shares? Because I don't want to be very aggressive if I could be wrong. However, this strategy will help you partially eliminate the current macro risks and further downward pressure. Yes, the results would be much more outstanding if I projected the shorting of 20 eBay shares, and this hedge might earn you money, which would be great in the current market slump down. However, these results are also satisfying because the strategy outperformed the classic hold of MercadoLibre stock during the 2022 market slump down.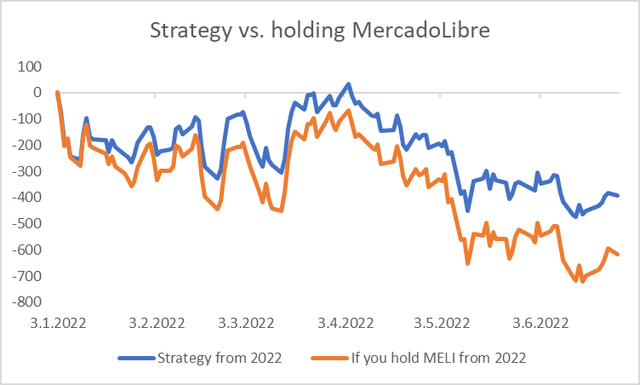 I believe this strategy will be more successful in the long run than in the short term. If you apply this strategy, you will (in the short term):
eliminate the MercadoLibre high beta,
reduce macroeconomic risks as eBay is more exposed to the risk of destruction of consumer sentiment risks (due to inflation, war, and rate hikes),
buy significantly undervalued stock with a high margin of safety (MercadoLibre) and short slightly overvalued stock (eBay),
not lose as much as you held only MercadoLibre stock, because you are lowering the standard deviation via shorting eBay.
I believe this strategy will be more successful in the long run because in the long run you will find out if we are right about Mercado or not. In the short term, both stocks could rally as the sector suffered significantly. I believe this spread will widen, but the number of shorted eBay shares needs to be actively managed in terms of the market cycle.
Risks
There are many risks associated with an investment thesis as well as with an investment strategy. Firstly, if we bet on the success of MercadoLibre and the long term stagnation of eBay, we are taking more risks. MercadoLibre is in a complex political landscape and operates in emerging markets, which brings risks, such as surging inflation connected to currency devaluations. These long term risks will significantly impact FX-neutral revenues and GMV, as well as EBITDA and net income. I see some risks in the e-commerce business despite low competition in Latin America, and MercadoLibre is an industry leader.
Nevertheless, some of the leading players in emerging markets (e-commerce) could try to enter this landscape and potentially endanger this segment. However, I firmly believe that e-commerce and fintech segments are powerful and have developed in a very successful way. Fintechs or MercadoPago/MercadoCredito may face issues with taking on so many loans on their balance sheets, endangering their financial health if the macro in Latin America deteriorates significantly. Except for the debt to equity ratio, all balance sheet ratios appear to be very good. From this point of view, there is leverage, and the company should work on deleveraging. In this section, there are increased risks because if the growth was dramatically lower than the company expected, it could significantly endanger its financial health.
In the case of the investment strategy, there is a risk that revenue growth in MercadoLibre will slow down significantly, and thus, we will face lower valuation and lower results. This risk should be mitigated by calculating with the very conservative way of levered DCF valuation – high WACC. On the other hand, eBay could take a second breath, and e-commerce in Europe should significantly improve, as well as consumer sentiment. Surprisingly, the eBay Vault as a potential next revenue stream could be much higher than we currently anticipate. However, I still believe eBay will grow only very softly as competition is tremendous in the USA, UK, and Europe. I do not think there are such high risks in the selected strategy in the long run as I believe MercadoLibre will outperform eBay. However, in the short run, there are risks because a tradeable upward rally could deliver less satisfaction from this trade. On the other hand, however, eBay is still slightly overvalued based on the levered DCF valuation. Based on historical trading multiples, eBay is also a cheap stock.
Summary
I firmly believe MercadoLibre will outperform eBay in the mid or long term. It is influenced by MercadoLibre's solid geographical scalability and well-developed revenue streams, which are consistently growing. The company, in the long term, focused on growth and developed its products with the target of not being entirely dependent on e-commerce. Thus, margins were low during most of its history, and I believe we will see margin improvements in the following years. The other revenue streams are so great that, in my opinion, the fintech segment will overcome the e-commerce revenues in the next 2-4 years.
On the other hand, eBay is a cash cow and has excellent profitability. Buying eBay at this level could be a good choice as well. However, I would instead follow the strategy because I see eBay's potential to deliver solid revenue growth figures as limited. Thus, eBay is near its long term fair value. eBay uses plenty of money to satisfy its shareholders via stock repurchase programs and tends to continue. Instead, I would rather see massive investments in the other revenue channels and not rely on the primary one – e-commerce as there is significantly growing competition in this sector. On the one hand, it should cause long term margin destruction. However, on the other hand, it will be mitigated by a new digital payment system and a new revenue stream – eBay Vault.
The strategy has many advantages. If I bet on MercadoLibre's success, the strategy will reduce the stock standard deviation and partially reduce macroeconomic risks caused by a consumer sentiment slump, as well as buying a company with a significant margin of safety. MercadoLibre faces many revenue revisions upwards, despite the current situation in the world. Stock price development is currently more correlated to the current macro than revenue growth. It could fade out in the long term if the situation calms down.